The inspiration for this month's Art Bead Scene challenge is a 1906 oil painting –Crozant, the Bouchardon Mill by Armand Guillaumin.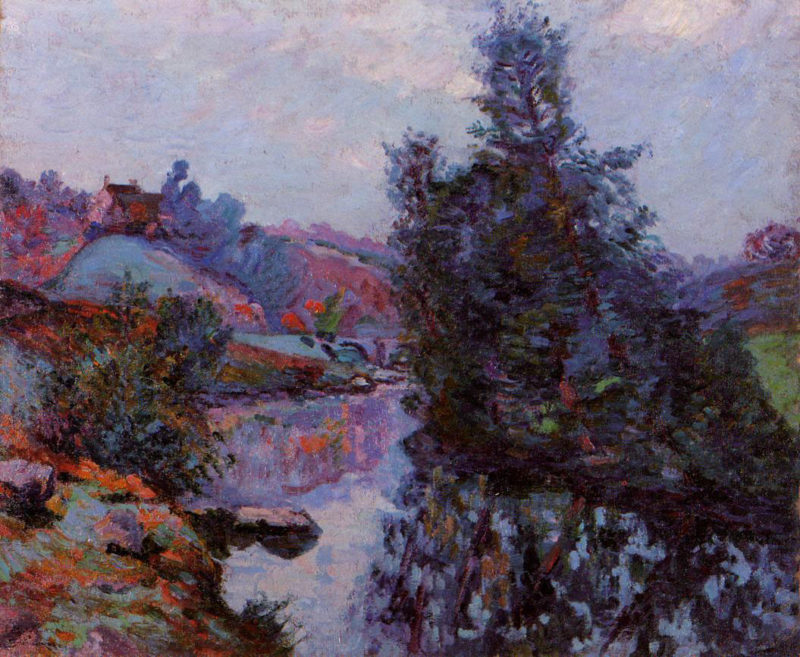 When I look at inspiration, I often first look at colors. In this painting, the color that presents itself to me first is purple. But the other colors and subject matter reminded me of a polymer clay autumn scene bead by Andrew Thornton. Looking at the inspiration color palette, Andrew's bead has it (almost) all – brown branches, green leaves, a gorgeous blue background that could be the sheen of the sky at dusk or a body of water turning colder. There is also a pop of bright red, just like in the painting. Perfect.
I chose some dark green manik-manik glass beads that are a real favorite and Czech glass the same blue as in the art bead. The polymer has a subtle sparkle as do the Czech glass facets. I've also used some small red white heart beads as spacers to brighten up the look and bring in more pops of red.
There is a slight asymmetrical element to the spacing of the beads, and the necklace is meant to hang asymmetrically as well with the larger art bead a bit up on the side. Also, remember that purple was the color that stood out to me? I didn't feel that it fit in with my design with beads, but I chose purple waxed linen as the stringing material. Although the color doesn't show, I know it's there. I do that often to make a design feel more complete to me.
As soon as I saw it, I knew Andrew Thornton's autumn bead was meant for something special. I haven't made anything for the Art Bead Scene for several months; I'm glad I was so inspired this month.
SaveSave
SaveSave